Aluminum – for the Quality
Aluminum is one of the most sought-after materials for home decor in general and for kitchens and outdoor kitchens in particular.
The unique material is full of exceptional and wonderful features which provide it durability, firmness and longevity.
Ever since aluminum was invented by chemists in the nineteenth century, it has become a sought-after material thanks to its excellent qualities.
It treasured the merits of a variety of other metals and completely avoided disadvantages, which earned it an unrivaled status at the top of the materials in many indust rial and home decor sectors:
Insensitive to heat and cold – Aluminum's sensitivity to thermal changes is minimal compared to other metals that may replace it as a material.
Certain aluminum alloys are indeed produced so they conduct heat faster and the aluminum is used as a conductor in electrical appliance.
However, when it comes to kitchen design, aluminum alloy conducts heat only slightly and that too is blocked during the first stages of processing the material.
This makes aluminum different from other materials, especially other metals, which often react quickly to temperature changes.
Resistance to thermal changes is an important commodity for the outdoor kitchen exposed to Israeli heat, and thus aluminum is a particularly effective material in this country.
Strength and Weight – A prominent advantage of aluminum is that it gives structural strength and can carry great weight.
The surprise here is that the material itself has a very low specific gravity which enables to design and produce extremely firm and lightweight products.
A fact of great design and engineering significance. Large doors and window frames that are very easy to move on rails or hinges, exterior claddings, kitchens that can be placed on a deck or patio.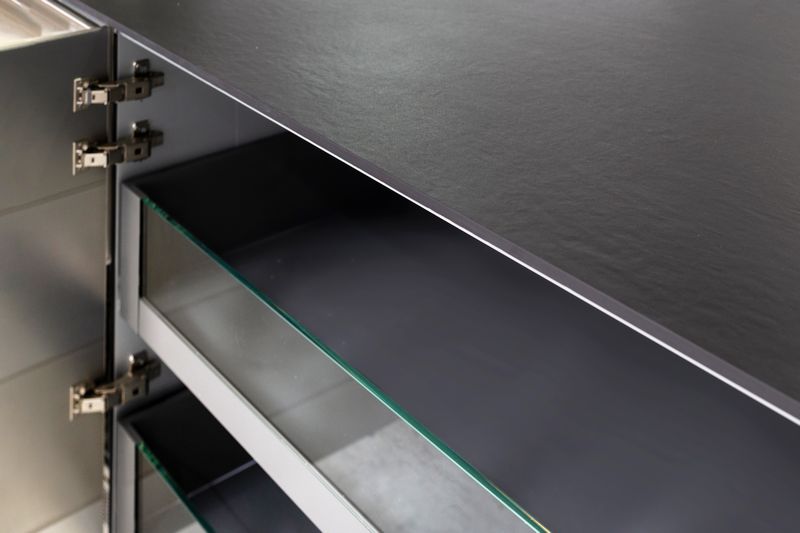 Does not rust – Aluminum is rust resistant. The scientific name of rust and the emerging process are called – corrosion.
This process is caused by exposure of the material to oxygen, whether in air or through water.
Aluminum is completely safe from the corrosion process and it's safe to say that it is actually protected thanks to its luster.
The beautiful luster on the aluminum body is made from a naturally formed layer called alumina, which is a firm layer that protects the aluminum from oxidation and thus the aluminum does not rust at all.
The lack of naturally occurring rust is very important for the Israeli climate, as the high humidity might severely damage the rusting materials.
Materials such as iron may be particularly vulnerable to weather conditions and respond poorly to Israeli humidity.
Aluminum becomes a perfect material in this respect, as it protects itself independently, without human intervention at a completely natural process.
Does not wear out – Aluminum is a firm and durable material that requires only minimal maintenance and retains its original qualities for a long time.
Due to the uncompromising strength of aluminum, it is commonly used in a variety of industries.
Its unique durability makes it a sought-after for countless products.
In addition, being a designing material, the aluminum benefits twice, since not only its fine virtues are preserved but its aesthetic appearance does as well.
The modern look of aluminum with a unique luster does not fade and remains beautiful and graceful material.
Thus, aluminum exceeds a variety of other materials that may have a special grace but easily become worn out.
Stone or glass may be elements with a high aesthetic value, but integration into an outdoor kitchen substantially exposes them to weather hazards and they might wear out easily.
Aluminum remains stable and solid against weather hazards and maintains its unquestionable unique beauty.
Impervious to rain and pests – Very few pests prefer to settle in aluminum, but even if they were, the firm aluminum layer that covers the aluminum completely protects it.
The alumina, a naturally formed layer that protects the aluminum from rust, also protects any intrusion into the aluminum.
These are not only organic pests such as insects, but also various liquids that may cause damage to other materials.
Water and rain are common among these liquids, as the outdoor kitchen is frequently exposed to them. Wood, as an example of competing material, may be severely damaged by rain.
It absorbs moisture and wetness and causes the tree to change its shape until it cracks, and further damage appear.
Furthermore, wood may be a habitat for other pests.
Aluminum does not suffer from these flaws and is completely protected from any external damage. Due to this, it is a perfect material for exterior design, and its integration into outdoor kitchen will produce an efficient and high-quality kitchen.
Easy to clean and shine – Aluminum maintenance, care and cleaning are simple and effective.
Aluminum is an inherently firm material which preserves its aesthetic appearance over time.
Thus, only a few steps are required to help it stay in perfect condition and they mostly include simple and gentle cleaning by wiping.
The protection which aluminum develops keeps it safe from any aesthetic flaw that may come about, and this is a particularly important feature when it comes to material for a kitchen.
Stains are a common matter in kitchens and so there should be a preference for a material that does not absorb liquids and is easy to clean up dirt from.
Natural stones which are often used for manufacturing furniture, might have these negative qualities, for they saturate stains easily and make it difficult to clean.
This is not the case with aluminum. This unique metal is stain resistant. The stains remain on its outer layer only, waiting to be cleaned and removed using a simple wipe.
OUTOPIA technology
It's a unique technology which blends materials together to extract from them their finest characteristics from the qualitative aspect and aesthetic aspect combined.
The technology is registered as an international patent and it offers new advantages not existing beforehand. Among them, in addition to the unique combination of materials, it also saves time.
The technology is five times faster to implement than the other options available in the market. Thus, the perfect outdoor kitchen can be produced, uniquely unparalleled – neither in terms of preparation time and application nor in terms of quality of end result.
Suitable for any design space – Outopia technology enables such a wide range of design options that an outdoor kitchen can be matched to each and every design space there is.
Combining any material – Enables to combine a variety of materials obtaining the desired appearance. Stone, wood, glass and many types of metals can be combined to obtain solid interior features for the kitchen with a unique design look.
Finishing options and textures – The blending of these materials is done in a sophisticated and unique manner so that it enables each material to have the desired finish and texture. By doing so, the sequence of options is huge, and a unique look can be created.
Innovative and modern design – Thanks to the unique technology, today you can create design aspects that were not possible before. The outdoor kitchen can be designed in an impressive and modern manner to radiate luxury and innovation. Outopia technology uses aluminum as a base for its outdoor kitchens, thus utilizing the fine qualities of aluminum to produce kitchens durable from damage. Due to the many options inherent in this technology, the exterior design of the kitchen is not limited to the range of aluminum options alone, but it can also have any look you desire.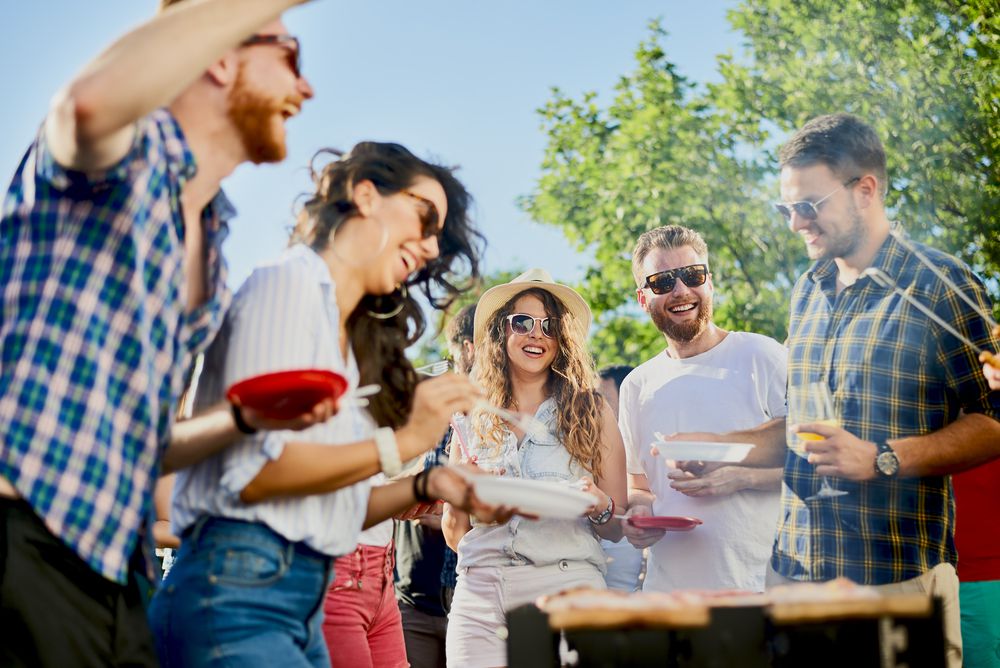 Redesign easily and effortlessly
Thanks to this unique technology, there is no need to replace the entire outdoor kitchen in order to change its design.
This technology differentiates the core of the outdoor kitchen from its external section, in terms of materials.
It enables specific treatment of the external section of the kitchen alone.
This provides the possibility to carry out subsequent modifications to the outdoor kitchen without any need for a comprehensive dismantling and restoration procedure.
The desired section is easily disassembled and replaced directly on the kitchen doors.
Outopia kitchens use concealed connectors, allowing for a clean finish with minimum screws and no soldering and welding.
The highest quality outdoor kitchen is within your reach
Outopia's outdoor kitchens are not only of high-aesthetic value with impressive and modern appearance, but also durable and robust kitchens that maintain their look and features over time without the need for burdensome and complicated maintenance.
Outopia Collaborates with renowned brands from around the globe, such as BLUM, known for its design items, or Napoleon, Franke, MGS, Lynx, Caliber, Barazza, in order to provide the most qualitative materials and elements for outdoor kitchen.
Thanks to our state-of-the-art and sophisticated technology, we offer you an outdoor kitchen with the highest level of equipment on the market, familiar to you from the interior kitchens. The perfect kitchen is within your reach.