First and foremost – choosing the materials
As in cooking, the materials of a luxurious garden are the basis for a quality product.
We'll start with the infrastructure, which is the foundation the garden is based upon. The selection of high quality materials is very important here.
A Straight and even surface, fine and healthy soil, prestigious deck, covering for a porch or smoothed concrete floor, these are significant factors in the infrastructure that will make all the difference.
On top of them, we need to choose beautiful lighting fixtures that provide the garden a dramatic look at night and create a romantic atmosphere whenever you desire for it.
In the preliminary planning, you need to select and ensure with the professionals involved that each item and material we use will be of high level quality, from the stones that make up the gravel up to the lighting illuminates in the garden at night, every detail is important.
Outdoor kitchen – a must in every luxury garden
The first thing that comes to mind when you say luxury garden is a professional outdoor kitchen alongside a comfortable and luxurious seating area, evenings of live cooking, vibrant company, glittering nights and indulging dinners.
There is nothing more essential, in completing the prestige in a garden, than adding an outdoor kitchen, one that allows you to spend all those festive outdoor events in the open air with all the comforts possible.
Outdoor kitchens are gaining popularity these days and can be seen in all the luxury villas and penthouses – large, upscale and as impressive as the indoor kitchen.
Outdoor kitchens, for a long time now, are no longer reserved for large gardens alone. Nowadays, when luxury gardens are also built in more limited spaces, smaller and more luxurious outdoor kitchens can be found.
Outopia's outdoor kitchens are designed according to customer requirements and customized according to their needs. Outopia technology enables for a variety of materials, colors and designs in the kitchen front.
Apart from its unique design, Outopia technology differentiates itself from the other competitors due to its high resistance to Israeli climate conditions.
All products and materials are carefully selected according to a high quality standard – complete aluminum body, high quality affixing and advanced countertops.
And for those who want to save on the design process, a TOP series of Outopia kitchens has been developed.
The unique TOP series enables you to select kitchens in a number of pre-designed models that are in stock in several functional configurations. Delivery is immediate from stock.
The TOP Kitchens series are a pre-designed and ready-made kitchens line, specifically designed for customers who wish to enjoy all the qualities of the Outopia luxury exterior kitchens, without having to go into the planning and design process.
This series has several models of different sizes ranging from 1.60 to 2.40 meters width in different finishes. Some are wall mounted models and some are island kitchens.
TOP kitchens can be adapted to any size of patio or deck and maintain appearance, high quality and professionalism.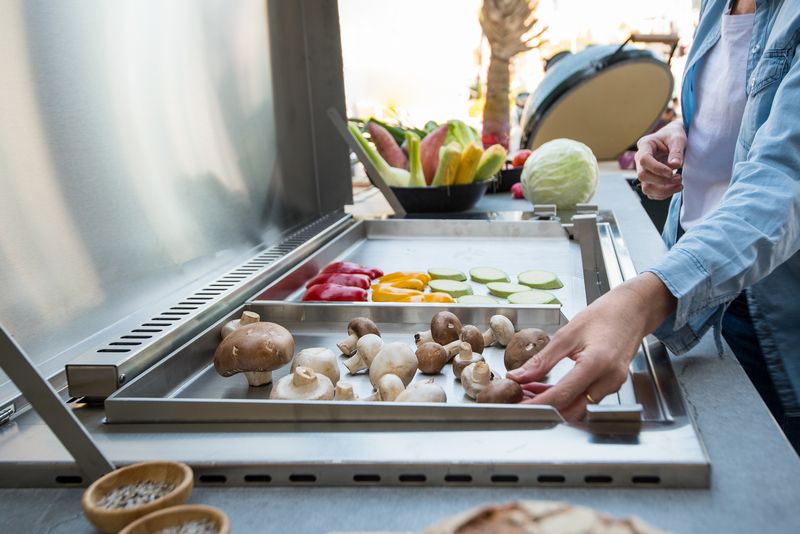 Combining water sources in the garden
One of the elements that provides a prestigious and impressive appearance is a container of flowing water in the garden – a waterfall made of stone, a small stream flowing in a sea of pebbles or a pond with koi fish or large goldfish swimming between blooming water plants.
Water has a soothing effect with their flow and gentle fickle sound and they provide a beautiful design element to the eye. You can design simply with a small water garden, maybe some fish swimming in it and aquatic plants surrounding it.
You can also choose the more prestigious and impressive grandiose option of various fountains and waterfalls.
Integrating water sources in a garden has not been a complex task for a long time and you can select and combine many different designs. Along with water sources you should combine a beautiful deck that will make walking alongside the water pleasant, a path of pebbles and a rich and colorful vegetation.
The vegetation that makes the difference
The main factor that creates any luxury garden is its vegetation.
Proper selection of suitable plants is very important and it will make the garden soothing and peaceful.  The first items that will provide our garden an impressive look are large and mature trees.
A mature tree reflects seniority and elegance.  A good choice would be great leaf trees that will provide shade and its leaves do not fall off in the winter – Evergreen – such as olive trees, the most common among Israeli designers, as well as various citrus trees and oaks.
Apart from trees, we will also add multi-season plants in the garden, ones that will not wither and die in the summer and will color the garden in green throughout the year.
In addition to plants that remain throughout the year, we need to replace mature plants being planted in flower beds according to season, so that we'll preserve the naturalness of the seasons.
However, there will be no luxury garden if we do not cultivate and maintain it.
More important when selecting plants is choosing a professional and reliable gardener that we can entrust in his hands the garden with our eyes closed and know that we're getting a stunning luxury garden every day.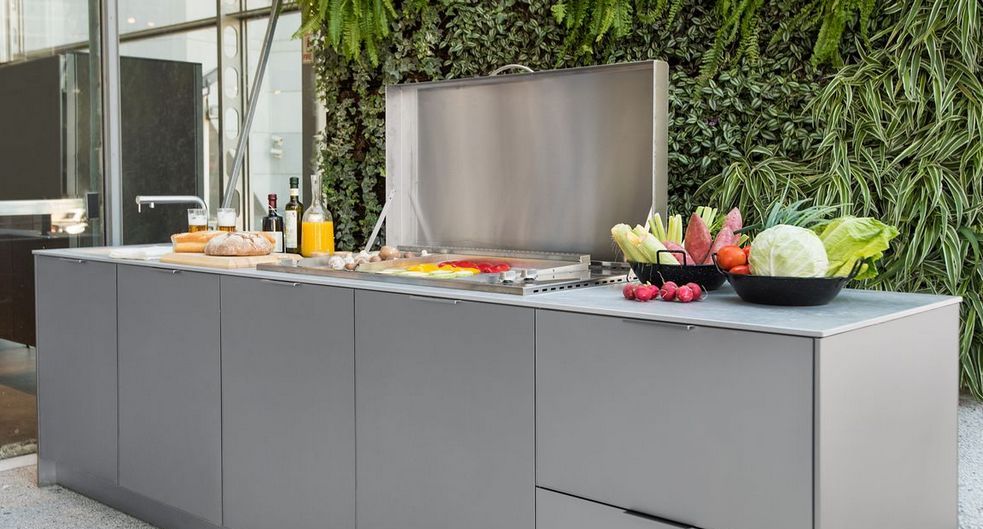 Magical Night – Changing atmosphere at night with lighting
During the daytime, natural light illuminates the garden and creates the atmosphere in it. At night, the garden requires lighting, one that will give it a dramatic, romantic, quiet or colorful look.
The hours of darkness are our time to change the atmosphere in the garden by playing with the lighting. This is a most significant element in garden design due to the fact that usually this is also the time when we host guests outside and expose them to the garden.
Special lighting will enable us to illuminate the place at our will. It has designed lighting fixtures, fixtures hanging from the branches and beams, lighting sunk in deck floor, illumination of large trees creating a dramatic effect, Underwater lighting fixtures ,a pond and many more.
Moreover, outside we have the option to modify the lighting colors – like a red light that radiates low on bushes and flowers or a green light that radiates on trees and shrubs.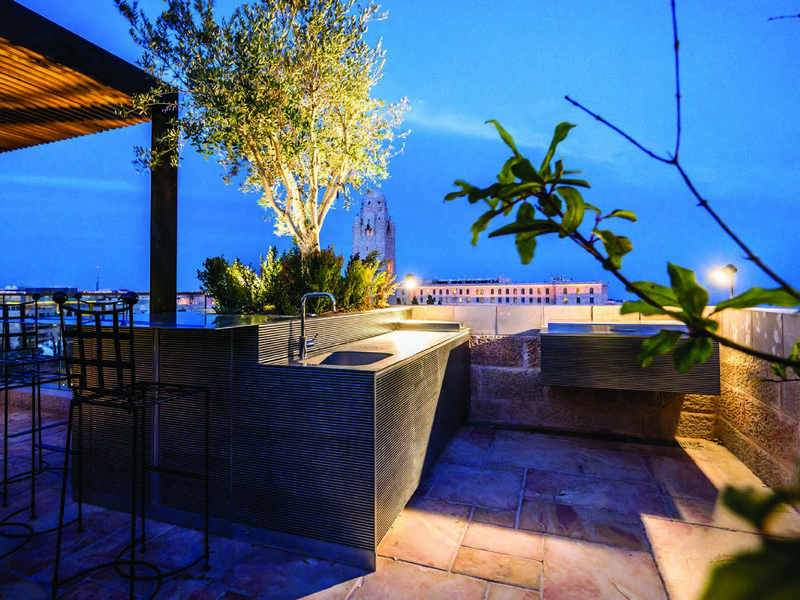 Unique decorative items
Each luxury garden contains not only natural elements but also unique decorative items.
In many gardens we can see various sculptures that adorn corners, passageways or large spaces throughout the garden.
Another example is special shading solutions, such as a hanging pergola with no poles attached, a shed with climbing plants or flower pots and planters.
A unique but natural item is "planting" rocks in the garden. A large rock provides a luxurious, antique, elegant appearance, and placing it in the appropriate place in the garden will give it an upscale yet natural look.
High quality and luxurious furniture
A garden used for hosting would not be complete without high quality garden furniture – beautiful, comfortable and luxurious.
Each sitting area, hosting location or area for large, multi-party meals requires fine furniture to complete the luxury of the garden. How we will choose the appropriate garden furniture?
First of all, the furniture must be adapted to our existing outdoor conditions.
In the past, it was customary to choose yard furniture made of wood, but the wood requires more maintenance and loses its beautiful appearance.
That is why there are other fine garden furniture solutions.
Aluminum, for example, is an excellent solution and can be wood-like, polywood, which is a synthetic material combined with wood chips or synthetic rattan interwoven on an aluminum foundation.
The second thing to remember is adjusting the furniture to its usage.
The most widely used furniture, such as sofas for afternoon coffee, we would like to place in a covered location, while aluminum furniture, which is more durable, can be placed on the lawn or uncovered deck.
Adjust the size of the seating and hosting accommodation to the average amount of people you are accommodating – in an area where only household members usually sit we can settle for a smaller seating area, compared to an area where we host family and friends for holiday meals where we'll probably need a large table and chairs.
The most important aspect is to get out of the old concepts that we keep in our minds.
Garden furniture can be anything in the house – sofas, armchairs, pillow mattresses and comfortable and luxurious seating areas. The possibilities are unlimited, only dream big time.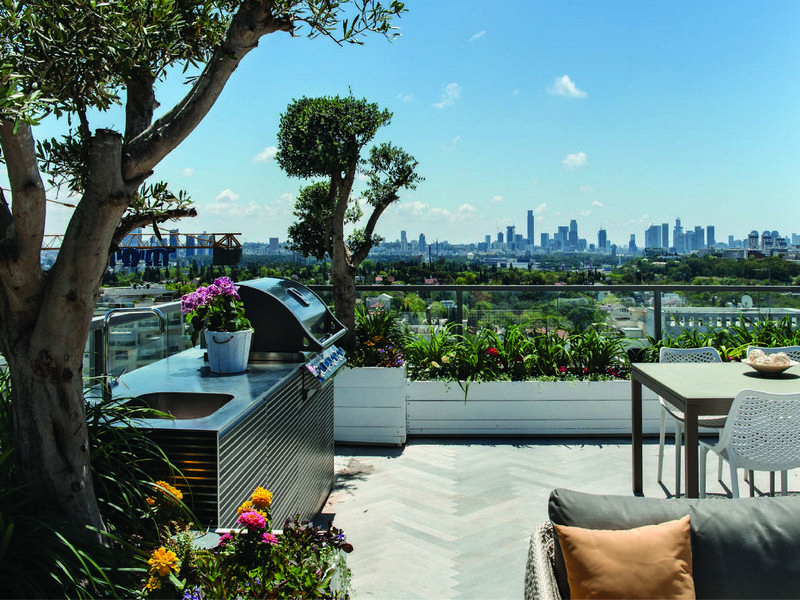 Special flooring and cladding for external paths and walls
The house's outdoor flooring is the first impression to receive when entering the house through the garden.
It is an important and integral element of your luxury garden and can greatly contribute to its prestigious and elegant appearance.
One option is cladding the exterior walls of the house with natural stone, which provides the house a prestigious, impressive and high quality look.
There are many options – from a Halila stone with a Jerusalem-look to a marble stone that gives the appearance of an Italian palace.
Not only the walls, but also access paths and aisles in the garden can be paved with natural stone, smoothed concrete flooring or stone tile flooring.
Paved trails are not only beautiful, they are easy to walk, smooth and easy to clean.
If you have a swimming pool in your garden, its surroundings can also be paved with natural stone to complete a luxurious and designed look.
In external cladding and flooring the possibilities are unlimited and creativity is possible in every touch.
A luxury garden transmits to the visitors glory and splendor together with peace and pleasantness that are possible only through the right combination of all elements – nature, furniture, lighting, vegetation, kitchen, paths and more.
Many high quality materials, attention to the smallest details, careful selection of each item and a dedicated gardener to treat this work of art respectfully – luxury gardens are not a trivial matter, and require planning and thought.
After the initial effort, you can enjoy a place to host dinner cooked outside and entertaining for everyone staying at any hour of the day. A fine luxury garden is not just art, it is a peace of mind.
It is important to remember when planning to integrate an outdoor kitchen into a garden, back yard or a roof, to plan the position optimally in relation to infrastructure, water, electricity, sewerage and gas.
Furthermore, try to place the grill and working area so that whoever is cooking will be in eye contact with the family and guests and will be part of the hosting and conversation experience.
You can also incorporate a conversion counter as an integral part of the kitchen, and then the experience for the host and guests will be perfect.